Do not close this page, your order is not yet complete.
CONGRATULATIONS!
You just got your free ticket for the Innovation & impact VA Summit!
Watch the video below and keep reading for what to do next…
Grab your All-Access Pass in the next 15 minutes and save 65% off the regular price!

As well as UNLIMITED ACCESS, see all the amazing things it also gets you listed below... You're not going to want to miss this!


Upgrade to All-Access
(before the timer runs out)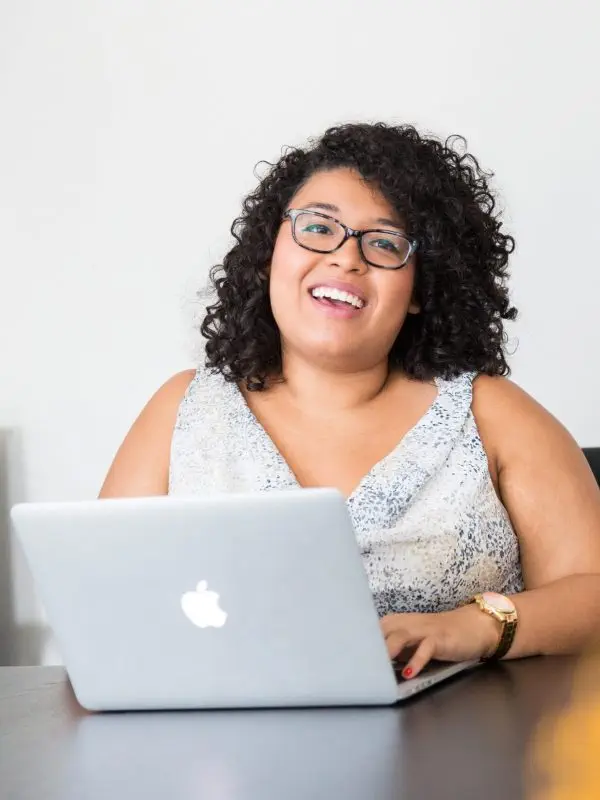 You've made the right choice


1. You want to go over the presentations in detail, multiple times, so that you can apply the strategies for years to come...
2. You don't want to settle for just having the strategies, you want exclusive sessions to talk 1:1 about your unique situation and get expert advice on how you can expand or improve.
3. You want to hit the ground running with the expert's knowledge to that you can start implementing all the key takeaways from day one!
If you're saying "YES" right now then the All-Access Pass was created just for you!
What YOU'll GET in the all-access pass
HERE ARE THE AMAZING
SPEAKER BONUSES
THAT YOU'LL GET SO FAR...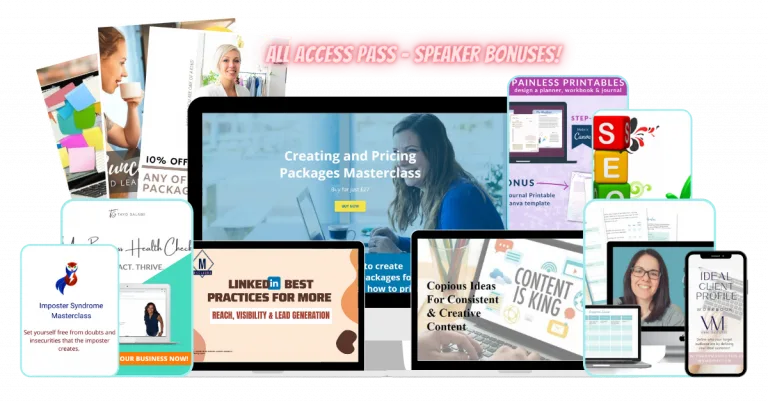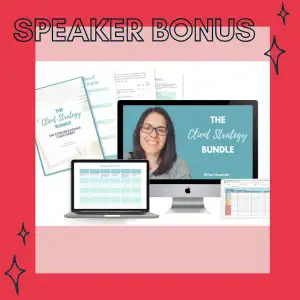 Incredible Client Strategy bundle including a Step-by-Step Workbook and bundle of 10 extra resources to help you find and convert clients easily!
The Client Strategy Bundle from Ilaria Sambi: Valued at £49
Copious Ideas For Consistent & Creative Content
NEVER BE SHORT OF CONTENT TO CREATE ABOUT YOUR BUSINESS AGAIN!
If you need to produce more content for your business but are running out of ideas, then you'll love this course!
It's full of prompts to help you to come up with potentially hundreds of new and reusable content ideas to excite your ideal clients!
The course includes 5 workbooks to get you to think about various content angles, plus 5 accompanying videos to help you brainstorm lots of ideas.
* Over 40 prompts to help you create heaps of new content for your business.
* Follow-along videos to help you brainstorm new ideas.
* Accompanying workbooks to help you keep your content ideas safe and easy to reference.
Course & Workbooks from Colette J Bratton: Valued at £47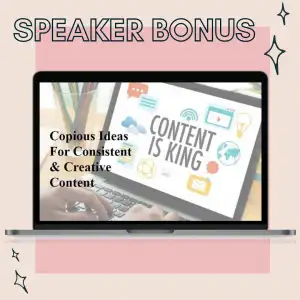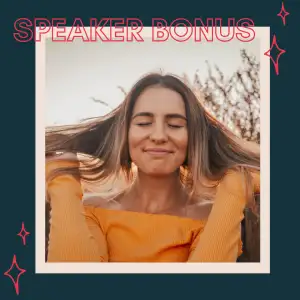 With Eliminate Anxiety Now, you will be able to access the incredible power of your subconscious mind and in just 15-20 minutes a day you can rewire your mind for calm, confidence, self-worth and phenomenal coping skills!
Eliminate Anxiety Now Online Course from Emma Gosling: Valued at £97
Use this fabulous Ideal Client Profile workbook from Reem Aubdool to help you define exactly who your target audience is!
Workbook from Reem Aubdool: Valued at £49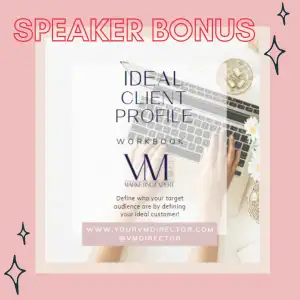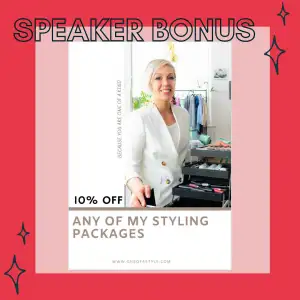 10% off personal styling packages from expert Stylist Stefania Bartolomei: 
Valued at £60
🍏Lunch N Learn With Lindsay – weekly email series for VAs, EAs, PAs & Executive Support Professionals 🍏
Every Monday lunchtime you'll receive an email containing motivational learning and food for thought. These emails are proving hugely popular in the community for inspiration and support. 
Weekly email series from Lindsay Taylor & Your Excellency Ltd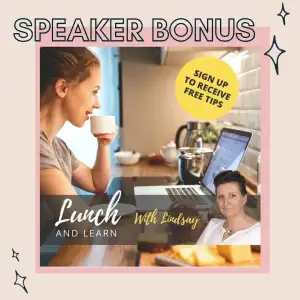 Learn to design your own printables with this easy-to-follow mini-course from Naomi J Johnson.
It's your fast track route to effortless planners, workbooks, e-books, checklists and virtually any type of bespoke business document that you might need.
All done with Canva, just bring your ideas!

And another fabulous bonus; an editable Canva template to create your own printable Gratitude Journal – change the colours, fonts, text & images to make it unique. then use it a as a lead magnet, sell on your website or Etsy.
Use this 'Get Stuff Done' Game Plan Spinner for a quick boost of motivation and a fun bit of creativity to inspire you to get up and out your seat and feeling productive.
Game Plan Spinner from Nicola Twiston Davies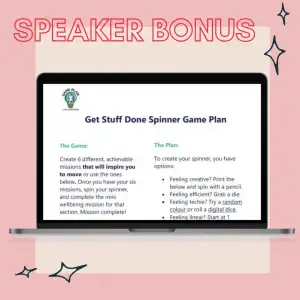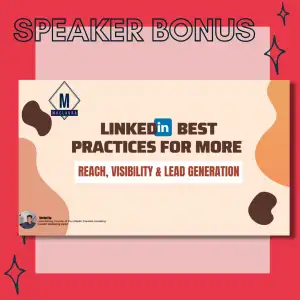 If you are just starting out on LinkedIn, it can seem overwhelming and confusing. This Ebook will give you LinkedIn Best Practices to increase your reach & visibility from the get go.
I implement these strategies everyday in my business to get 12k views on my content weekly, build authority and sign people into my coaching program.
Start showing up on LinkedIn intentionally and start generating leads with effortlessly.
EBook from Laura Nsang: Valued at £14.99
Confidence as a Superpower eBook: The way the eBook works is that it provides you with tools and tips that you can use to help you on your confidence journey. Building your confidence is not something that you can achieve overnight, but if you use the tools that are in the eBook and start to implement them into your daily life, you will have the superpower of confidence.
By becoming more confident you will be more open to new opportunities that will come your way. You will be able to feel more in control of the choices and experiences that you have.
30% Discount on Imposter Syndrome Masterclass
Social comparison bias and imposter syndrome can impact your life and confidence if you don't learn to deal with it the right way. When you start to deal with the imposter you are better able to vanquish those thoughts that you have, "will they find out" or even "I am not good enough". Don't let those feelings get in your way and stop you from growing your business.
EBook and Imposter Syndrome Masterclass from Natalie King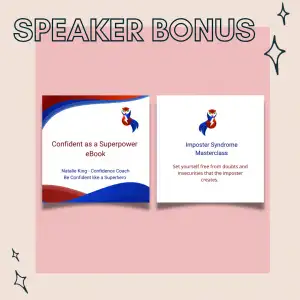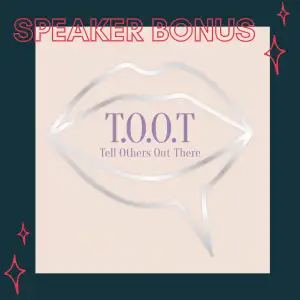 20% Discount for TOOT's Online Training: 7 steps to sparkling testimonials!
By attending this 3hour webinar you will:
learn how to increase your chances of getting feedback
discover techniques to get testimonials that are really valuable
add to your skills of collecting, analysing and communicating data so you can listen and learn from your clients better and be on your way to T.O.O.Ting your own horn!
20% off Training Webinar from Shehnaaz Latif: Valued at £147
Business Health Check:
A simple solution that will give you deep insight into the current condition of your business so that you can take the right action to boost your business performance.
Discount on Full Business Health Check by Tayo Salami: Valued at £47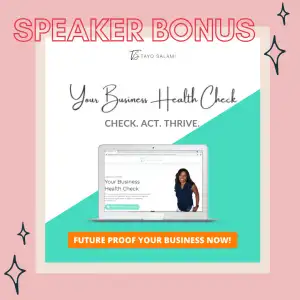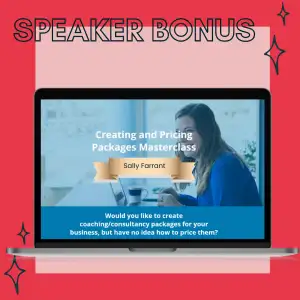 Packages Masterclass from Sally Farrant – learn how to package up your services with this one hour practical class
1 Hour Webinar by Sally Farrant: Valued at £27
Finance Bundle from Maria Isaeva:
Your Retirement – Making the Right Choice: A guide to your retirement choices helping you to navigate through the complex world of pensions. This guide will help you understand how pensions work, including State Pension, and what options you will have at retirement.
Monthly Budget Analyser/ Tracker – Excel document
Client Discovery Document – Word document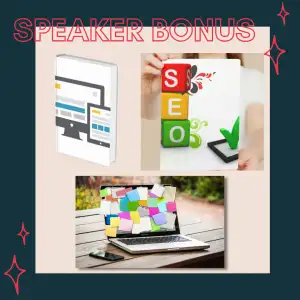 Checklist Bundle from Helen Say
Basics of SEO Checklist: A "crib sheet" to use as you review your website for all the essential elements of SEO
Website & User Experience Checklist: A "crib sheet" to use when reviewing your own or your client's website to check if it's delivering the best user experience possible 
Design for the Perfect Website Landing Page Checklist: A checklist to illustrate all the elements that need to be present on a well optimised website landing page
LinkedIn Profile Facelift Checklist from Sharon Murray:
Use this checklist from LinkedIn Revolutionary Sharon Murray to give your Linkedin Profile a much-needed facelift!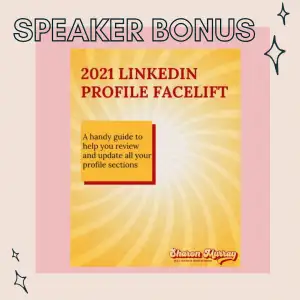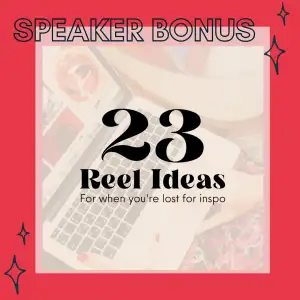 23 Instagram Reels Ideas from Emily Betts:
Do you want to jump on the Instagram Reels train, however you have no clue where to start? Reach more people, and build brand awareness with these 23 Reel Ideas!
Innovation & Impact VA Summit
3 action-packed days designed to help you future-proof your business, increase your resilience and business mind-set, plus strategies to help you gain more clients and the confidence to raise your rates.
team@iivasummit.com
©Green Tree Virtual Solutions 2021. All Rights Reserved.